Welcome to Scamping Tennessee!
This is my 12th attempt at a blog that actually has some value. I am very excited about it, but before I go register a domain name, I am using my personal blog to see where this will go. I hope you choose to come back and read about our travels, and comment via Facebook. Unfortunately, we can only go camping a few times a year. We both work full time jobs and scheduling vacations to work isn't as easy as it sounds.  
First, you may ask, what is scamping? Scamping is a term used by people that own a Scamp brand of camper. A scamp is a lightweight fiberglass camper made by Eveland, Inc. in Backus, MN, USA. Scamp has quite the following! Just do a google search on Scamp Camper, over 1.57 million results.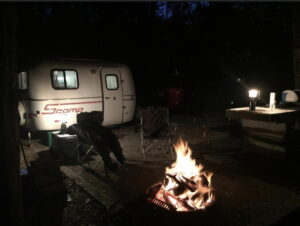 So, this website/blog is about our travels with our scamp.
Our Scamp is a 13′ Layout 1. No Bathroom, with front bunk beds. Since we have no little kids that use the bunk beds, we use the top bunk as a counter for a microwave, coffee maker and toaster. And the bottom bunk is used for storage using totes. We eat outside mostly, so the dinnete stays in the bed position.
The picture above is at Cedars of Lebanon S.P. in Lebanon TN. in the fall of 2015. that's my son, Andrew, sacked out in the chair.
There are 33 state parks with RV camping. 56 total State Parks. That's going to take up a lot of room on the side of the camper with all the stickers! Oh, we decided to get a sticker at each S.P. and place it by the door on the camper.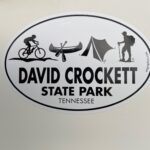 If you want more information about Tennessee State Parks, you can download the mobile app.
There is just something about early morning at a campground. Fresh coffee, the smell of bacon frying, the birds singing. It's just magical, and I cannot wait for our next camping trip! We plan to explore David Crockett S.P some more. Then on to Pickwick Landing SP, later in the summer/early fall! This is going to be an adventure! I will be more diligent in taking pictures, video, and try to make it as you are there with us. But you cannot be with us… There is only room for 2 in our 13′ scamp! LOL
I hope you all will join us!
…Thomas