David Crockett was a pioneer, soldier, politician, and industrialist. He was born near the little town of Limestone in northeast Tennessee in 1786. In 1817, he moved to Lawrence County and served as a justice of the peace, a colonel of the militia, and a state representative. Along the banks of Shoal Creek, he established a diversified industry consisting of a powdermill, a gristmill, and a distillery in what is now his namesake park. All three operations were washed away in a flood in September 1821. Financial difficulties from this loss caused Crockett to move to West Tennessee, where he was elected to Congress. While in Washington, he fought for his people's right to keep land they had settled on in the new frontier of West Tennessee. Crockett died at the Alamo Mission in March of 1836 while aiding the Texans fighting for independence from Mexico. The 1,319-acre park has a museum staffed during the summer months, with exhibits depicting Crockett's life here and a water-powered grist mill.
So our first journey together in our scamp was to David Crockett State Park, just outside of Lawrenceburg, TN. This was my wife's first camping expedition, and she loved it!
We borrowed a truck from a family member, and headed off to David Crockett S.P. It's about 30 miles from where my wife grew up, and about 2 hours from where we live now.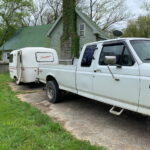 I am very grateful we were able to borrow something to tow the camper with, because I didn't know if my wife would enjoy camping. If not, I would have sold the camper, and moved on….
So, we loaded up the ice, cooler, way too many clothes for a weekend, food and drinks, and headed off.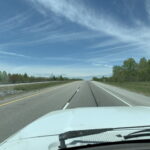 It was Friday, April 16, 2021, and the weather was awesome! 40 minute drive and we were at the park. Check in time was 3pm, but we were there before noon. We were allowed to check in early as long as we understood that the maintenance staff may be by the site to clean it up. We took a Wildflower Hike, which was very enjoyable!
So, the first camping trip was a success, with many more to come. As I get closer to retirement, I am hoping to visit National Parks out west.
Until next time,
…Thomas & Wendy